This is the third post in short series on the experience of recording a demo in GarageBand. See the first post here and the second post here.



The demo in question is a recent (January 2015) recording that was started in GarageBand 6.x and finished (more or less) in GarageBand X:
I think of recording the real instruments as "pouring" them in the moulds created by the software instruments in the composing/arranging process.

"Invincible Sword Goddess" is a fairly basic and straight ward slab o' rock, and its composing/arranging process left me with two "rhythm guitar" tracks, a "bass" track, and a not very convincing drum track (along with a few bits of disposable scratch vocals). Those are essentially the same things that I am equipped to replace with real instruments and hand-programmed drums.
Other, "fancier" :) songs might have synth/keyboard parts and what not; those would stay software instruments to the end (because I don't have real analog synths to hand, let alone grand pianos or string sections), though I might twiddle with the parameters in the mixing stages.
Real guitars and bass ... with "unreal" amps
For good or for ill, I record electric guitar parts with amplifier modeling software. While purists will doubtless sneer, the budget home musician needs to use the tools that will help them get the job done.
Amp modeling software costs a fraction of what giant valve amplifiers do, can be recorded much more quietly, and is these days usually good enough that I think relatively few people can tell the difference. Recording this way, what actually gets captured in the fairly thin, boring audio signal coming out an electric guitar's/bass's pickups; all the "amplification" etc. is really an effect applied after the fact in the computer.
Thus, you actually have a lot of scope for messing around with the "complete" sound after you record it. You love your take, but wish you had used a different fuzz pedal model? Just swap it in, and -- presto! -- the "dry" signal you actually recorded is now affected slightly differently by the digital magic being thrown at it, and your part now sounds like it was recorded with the new fuzz pedal instead of the old one.
Actually, I find amp/effects modelling software to be really fun stuff to play around with -- but perhaps it deserves some posts all on its own, sometime ....
Anyway, to start tracking guitars, I just load-up a preset from my modeling software that sounds "good enough", and get playing. I can always change it later.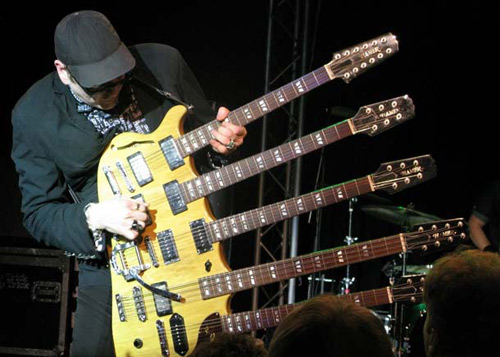 Tracking guitars
For "Invincible Sword Goddess" I followed an almost textbook process of "how to record guitars for a basic rock track": even in the software instrument version, there were two very similar guitar tracks panned right and left. Doubling guitar parts makes them sound "bigger", and panning them away from the center helps leave room for vocals (which can occupy a similar part of the sonic spectrum).
Listen to many recordings by "1-guitar" bands, and you'll hear this was done in the studio; 2-guitar bands may well place each guitarist on either side (left and right) of the stereo and then use 2-tracks (at least) from each, so that each individual part is likewise doubled (so: 4 tracks of guitar in total).
This can go on forever -- and you can read about sessions where a dozen or so tracks of guitar end up in the mix. I didn't go that nuts (I don't think my computer would be able to handle it anyway!) on "Invincible Sword Goddess", and I actually just recorded two basic rhythm guitar tracks that followed what I'd done with the software instruments quite closely, likewise panned left and right. They sometimes play the same riffs, sometimes they play slightly different things, and they use similar but slightly different amp/effects modeling (that I changed around at various times through the recording and mixing processes).
I remember reading an interview with one of my guitar heroes in which he objected to studio engineers spending 20 minutes fixing a mistake in software when he could have simply re-done the part in 5 minutes. Likewise, I read another interview with a famous guitarist who grumbled about how he could hear when sections had been copied and pasted from one part of a song to another.
And it is, no doubt, easily to overuse the technology that lets you do these kinds of things. I, however, am not not a professional guitar hero who's been performing for decades; I'm a homebody hack who tries to learn the part he's come up with seconds before recording it. :)
So if I can play a part through, I do, and if I have to patch or tweak mistakes, or it turns out to be more effective to copy and past a section of rhythm guitar, I do it. I read in the memoirs of a guitarist who recalled a producer, in the '70s, spending much of one night dropping in a guitar solo, note by note. That must have been a chore with the tech of the time! In contrast, I worked on one piece with a rather lengthy guitar solo section; I did it by recording a bar or two each morning between gulps of cereal. I would listen to what I'd done up to that point, and if I liked it, I recorded a little bit more. Or I might decide what I'd done the day before was rubbish and re do it.
I think it took a couple of weeks of this Frankenstein method, but by the end I had a guitar solo part I was pretty happy with. Sure, it would have been better if I could have ripped it out in one take over the 75 seconds or so that it eventually lasted -- but I couldn't, so I didn't. But I got the job done, and was happy with it. So I recommend you "cheat" however you need to get the vibe you want. :) You can go overboard, and waste a lot of time tweaking whilst sucking the life out of the performance -- but judicious use of copies and fixes won't kill you or, in all likelihood, your song.
Tracking bass
Having done the basic rhythm guitar parts, I then did the bass part using the same approach. In this case, I added a sort of "bass solo" improv bit in the bridge, where the software instrument version had simply had a repetitive bass riff. Or, anyway, it was mostly improv! I think I played through a few takes to get a feel for it -- after all, I'd never really tried to perform the part before recording it -- took the best one, and then went back a fixed the more egregious mistakes.
And then ...?
With drums and real guitars/basses tracked, I am left with no choice but to tackle vocals -- something which always fills me with horror. Still, it has to be done ... though I will at least leave it for a subsequent post.